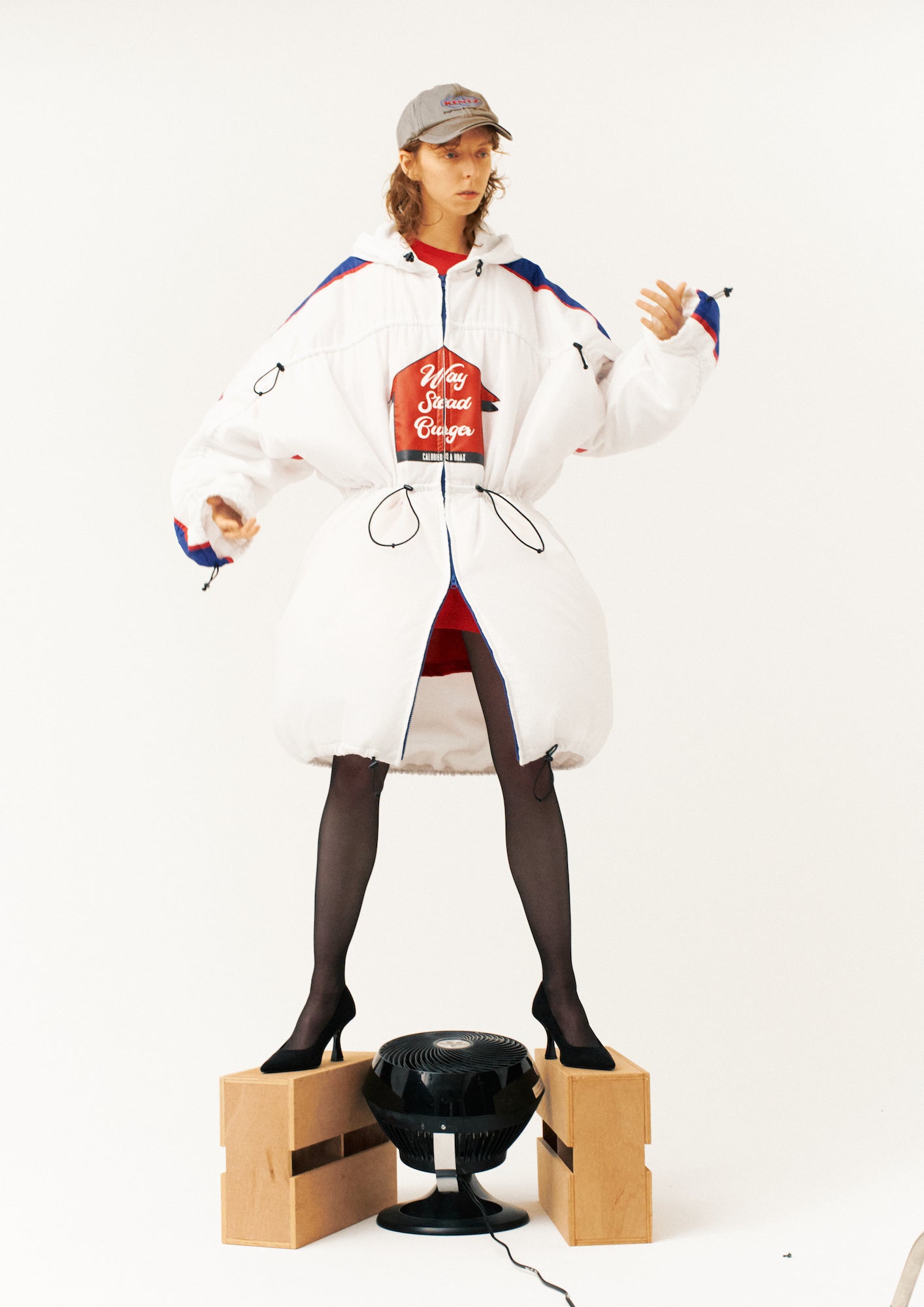 AFTER 400 HOURS JOURNEY
400時間の旅を終えて。
Hot air balloons usually fly for about 400 hours before they are tested again for safety with a strict standard 13.5 kg tensile test – and are simply disposed of if they don't pass.

When a hot air balloon can't fly anymore, owners tend to keep them stored in warehouses for ages because there is a strict rule for disposal. The expensive hassle of first cutting down 1000 sq.m of material to small pieces before they can be disposed means it's easier to let them pile up in storage collecting dust.

We give hot air balloons another life as super strong, yet super light clothing with 80s style aerial advertising inspired design.

熱気球はその生涯を通じて約400時間飛行すると言われています。
人命に関わることですから定期的に厳格な安全検査が行われ、引張り耐荷重13.5kg 未満の機体は廃棄される運命にあります。
しかしながら廃棄に関しても各自治体のルールがあり、基本的にはこの1000平方メートル程もある機体を細かく切り分ける必要があります。
これが大きな弊害となり、機体は通常の生地としては十分な強度を保ったまま倉庫に埃とともに所蔵されるというケースが多く見受けられます。
私達はこの軽くてまだまだ丈夫な球皮に、80sのアドバルーンをイメージしたデザインで新たな生命を吹き込みました。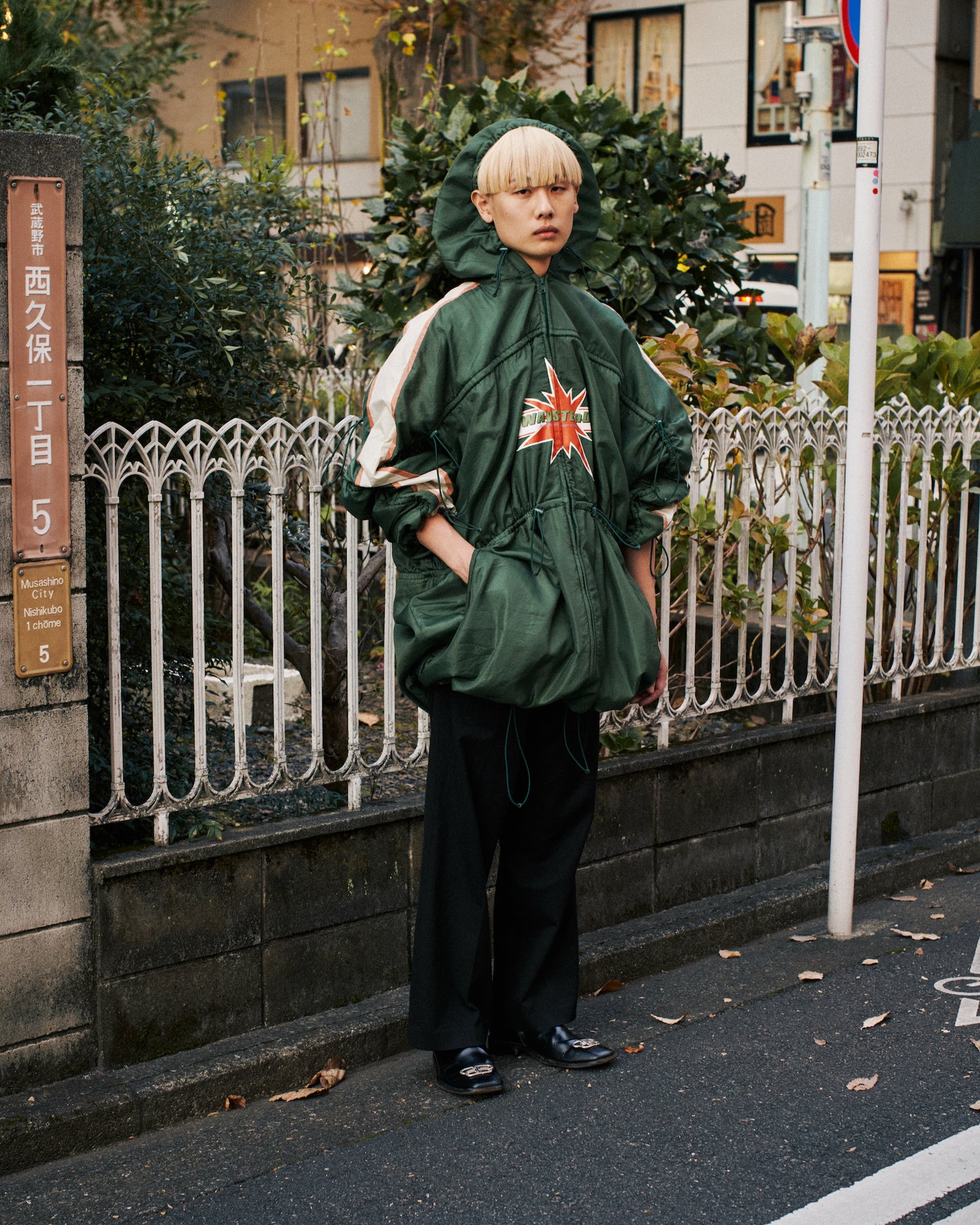 TRANSFORM IT AS YOU WISH
変形を、思いのままに。
We know there's a good chance you're here because you're the type of person who doesn't want to conform.

The uniqueness of our designs comes from not just the materials but also the way you can transform it with 8 drawcords.
You can wear it like an oversized hoody, create a balloon shape
squeezing drawcords on the sleeves, or, even make it like a dress when you tuck the hem up with the bottom one.

WAySTEaDを訪れるイノベーターであるあなたは、どこでも買えるような無難なプロダクトを求めていないということを私達は知っています。
この熱気球コートの最大の特徴は、ボディを縦横無尽に駆け回る8本のドローコードです。
そのまま着ればビッグシルエットのナイロンフーディ、袖の前後や裾のコードを絞れば文字通り気球のようなバルーンシルエットを作ることができます。
さらに裾を絞りブラウジングすれば、ドレスのようなシルエットを作ることも可能です。
2wayでも3wayでもなく、何通りの着こなしが出来るかはあなたのクリエイティビティの見せ所です。
THE LONG LONG JOURNEY TO GET THERE
気の遠くなるような、長い道のり。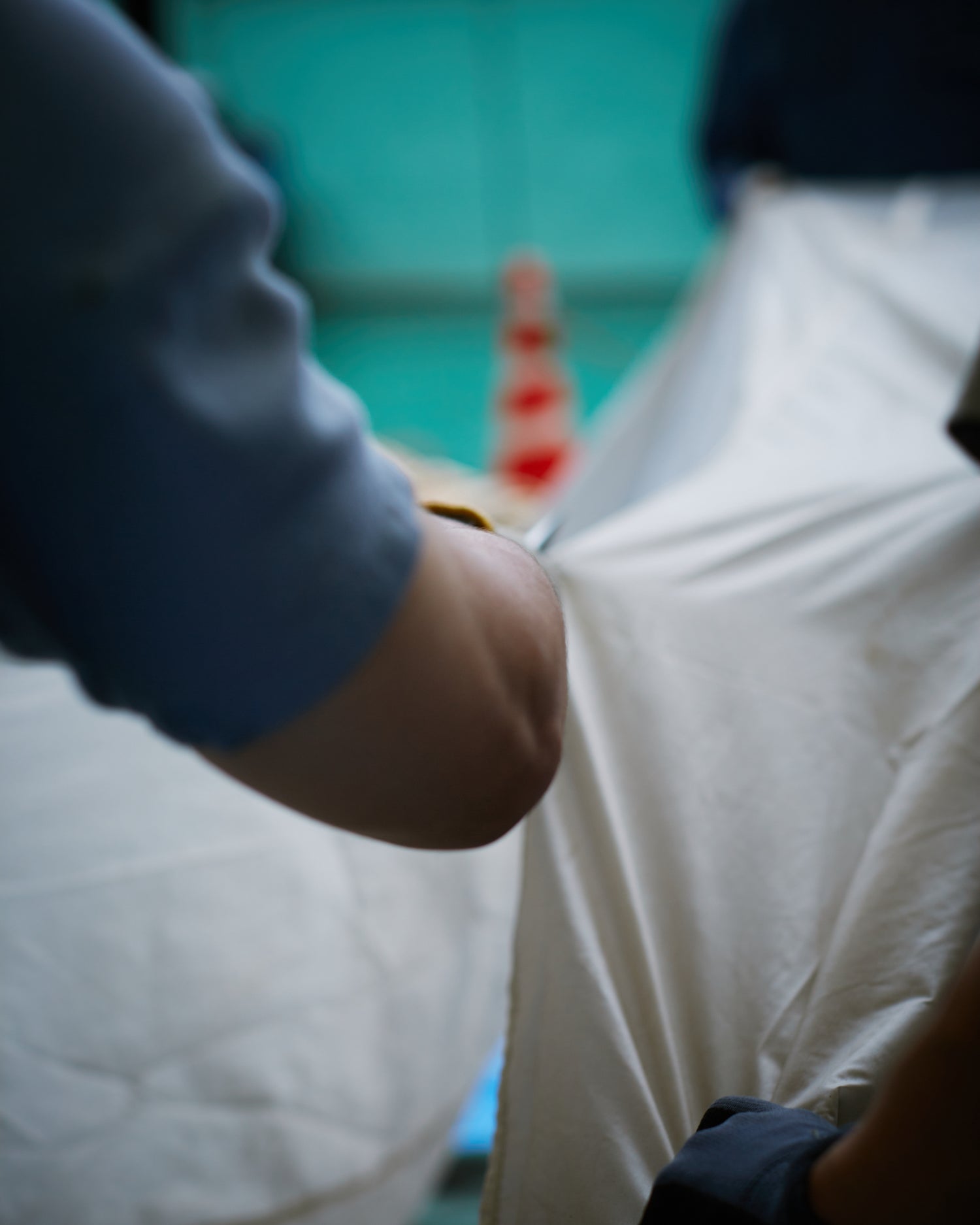 It's not an easy game.
Hot air balloons are a massive 1000 sq m and yet they can fly
away with a gentle breeze.
This means that the materials can't be cut by just one person.
And that's just the beginning of the long process.

この一着が作られるまでの道のりは決して平坦なものではありませんでした。
まず、前述の通り機体は約1000平方メートルもの大きさがあります。
そよ風が吹くだけでもとてつもない力で飛んで行ってしまいます。
それはすなわち、生地をカットすることさえ一人の手では出来ないという事です。
しかしそれはこの長い道のりの始まりに過ぎません。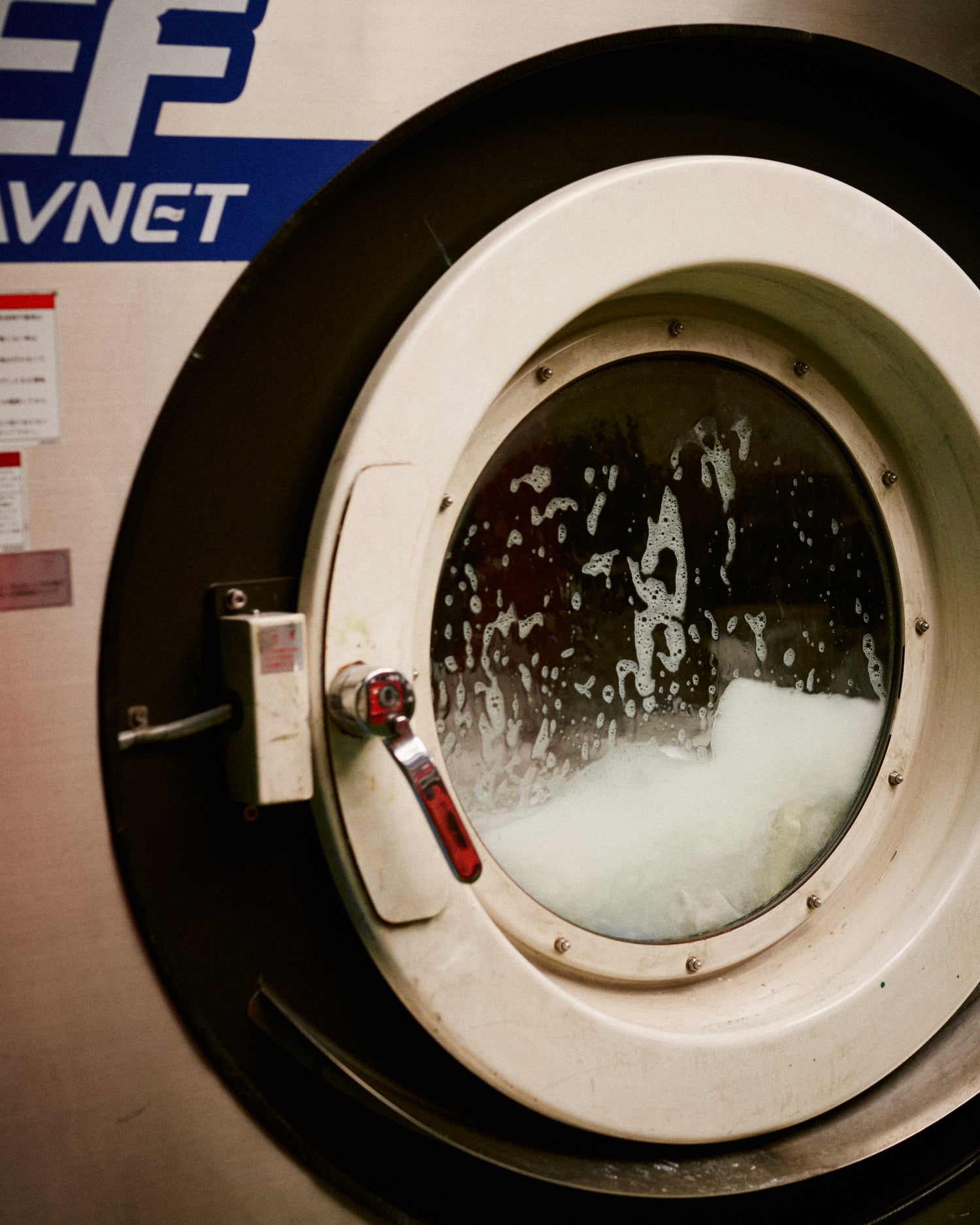 Flying 400 hours and storage adds heaps of dust.
Sometimes they even have stains, mold and other stuff on them.
This means we had to put in a lot of effort and experiments to remove it.
In partnership with an amazing washing company called Japan
Weston in Gifu, Japan, they have many ways to clean materials even with the toughest dirt - whilst paying attention to environmental impact by using bio-drainage and a solar power generation system.
400時間もの飛行と共に、機体には多くの粉塵などの汚れが付着します。
これらを除去するには大変な知恵と労力が必要となりました。
私達は岐阜にある、日本ウエストンという確かな洗浄技術とともにバイオ廃水処理や太陽光発電など環境保護への取り組みも行う企業とのパートナーシップのもと、これに取り組みました。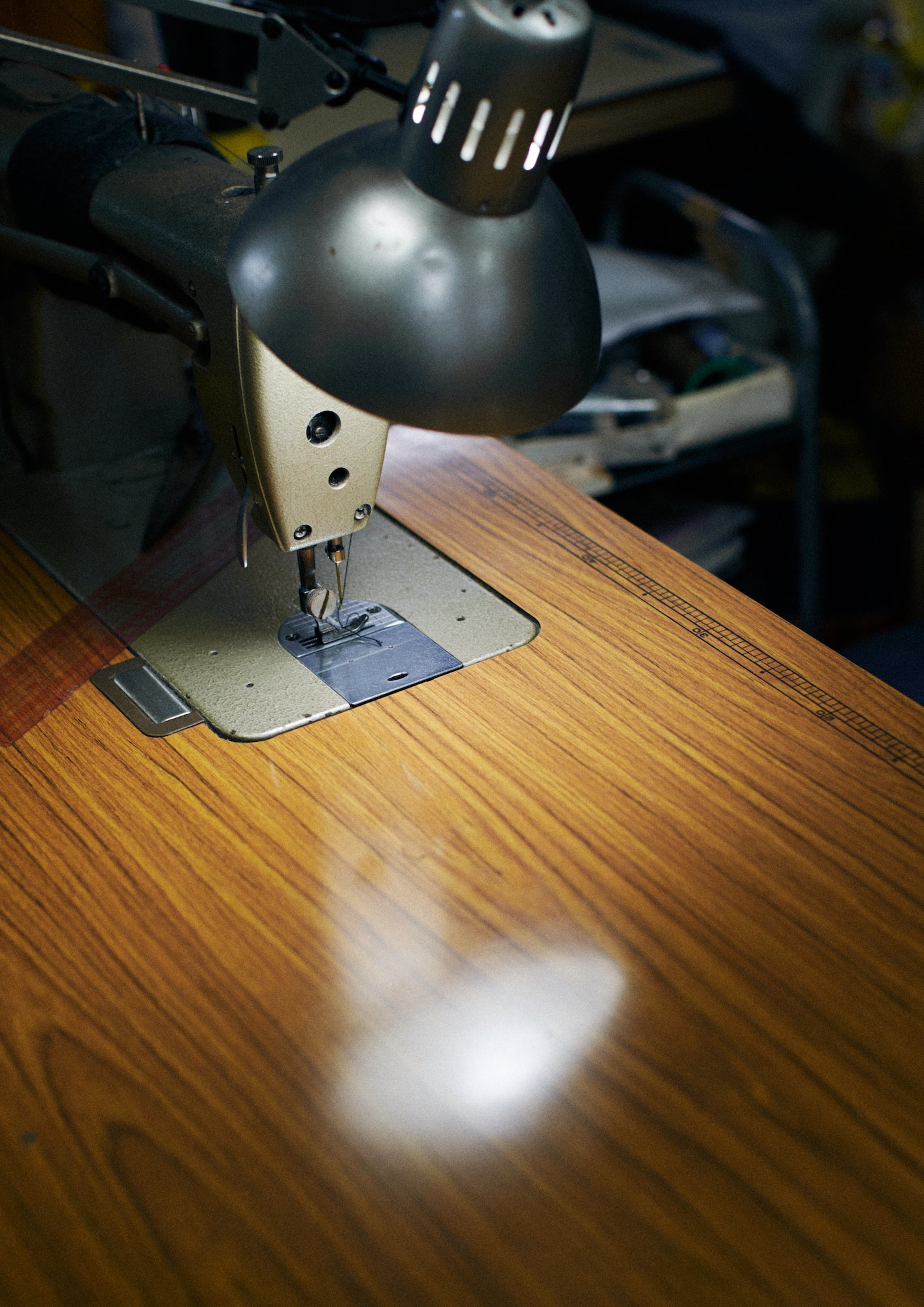 Next is the actual sewing phase - but there is another problem..
The fabric has a specific water proof coating that makes it difficult to print on.
We solved this by putting magic patches that match the fabric.
Then, finally, the craftsmen can start sewing.

Different to standard fabric, the balloon fabric has pretty random sizes which means even cutting it as a pattern takes ages as it has to be cut one at a time.

ここまで来てやっとマテリアルが縫製工場に入るかと思いきや、更に問題が待ち受けます。
熱気球は表面に特殊な撥水加工が施されており、予定していたプリントが乗りません。
私達はこれをアドバルーンのイメージと調和するパッチを縫い付けることにより解決し、遂に縫製の段階に突入します。
流通している通常の生地とは違い、熱気球の生地はサイズもバラバラです。
通常は生地を重ねて一度に行われる裁断も、ここでは一枚一枚。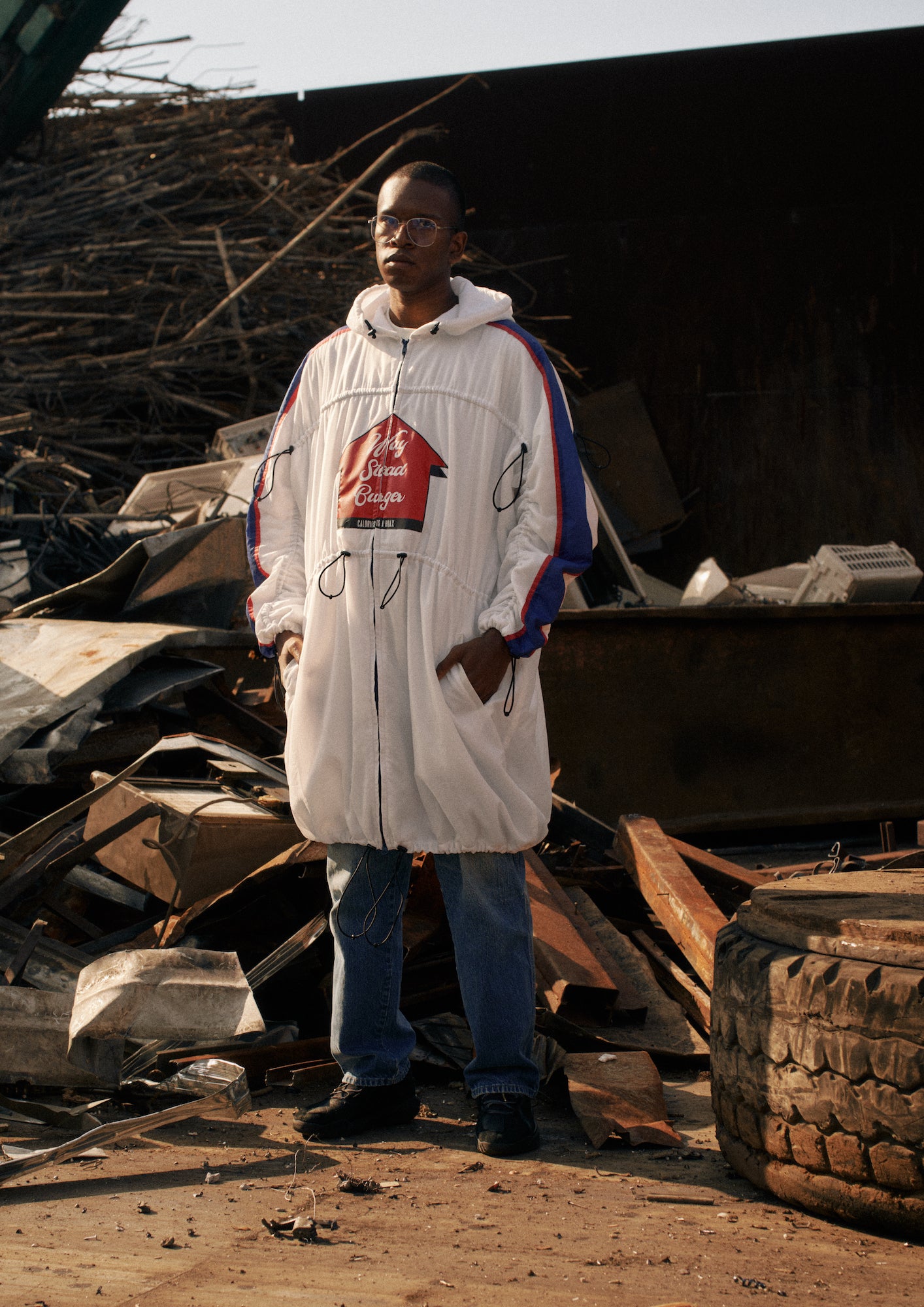 Since there are 8 drawcords running throughout the design, the
structure of the piece is super complicated, so pattern making takes as much effort as sewing.
The liner is also made of recycled poly.
...And so, with a lot of effort and genuine
craftsmanship we come to the end of a long journey to make this super romantic coat.

Now it's for you to enjoy – you deserve it.

そして軽やかなボディとリサイクルポリエステルメッシュのライナーの間を縦横無尽に駆け回る8本のドローコード。
それを実現するにも非常に難解な構造を組み立てる技術が必要なのです。

長い旅でした。
クラフツマン達の知恵と技術の結晶がやっとのことであなたの元へ届きます。